591st Engineer Boat Regiment/2759th Combat Engineers Photo Album
The 591st Engineer Boat Regiment was initially part of the 1st Engineer Special Brigade and was responsible for operating boats in ship-to-shore or shore-to-shore military operations. After these tasks were assumed by the navy, the 591st was transferred to other engineering duties. The 591st later became the 1185th Engineer Group, and finally the 591st Engineer Combat Group with three Battalions including the 2759th Combat Engineers.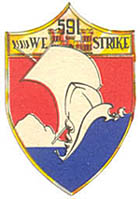 Units, persons, and locations mentioned in the photo album:

Units: 591st Engineer Boat Regiment, 2759th Engineers, 81st Station Hospital, 7th Army

Persons: Edmund J. Chrzanowski*, Edwin J. "Eddie" Landry*, John Lahey*, Fritz* [Raymond W. Fritz], Louis Sausa, Sonnefeld? (Sonenfeld?), Hopkins* [James F. Hopkins], George, Savoie? (Savoil?), Petterson (Patterson?), Sgt. Holeyfield* [Cletus J. Holeyfield], Cpl. Malik* [Stanislaw Malik], Ralph Marshall, Eddie Zabilski
Locations: Bizerta, Tunisia; Naples, Pisa, Leghorn, Italy; Aalen, Germany

* Names confirmed from unit roster, full names in bracket italics are from unit roster.
If you have more information on the 591st in WW2 or the soldiers pictured, please contact us.

Pvt. E.J. Chrzanowski and Pvt. E.J. Landry in North Africa dated December 7, 1942 with French Marine and African soldier.
Three camp photos, unknown date and location:

Fritz, Sonnefeld(?), me.

Sonenfeld(?) and me

Fritz and myself
Christmas dinner overseas, December 25, 1943:

Turkey!

Me - the handsome waiter!

Our Xmas cake, Sausa & Lahey (Italian P.W. in background)
Series of photos taken December 25, 1943. Top to bottom, left to right: (i) Lahey, (ii) me, (iii) L - R - Lahey - Sausa, me, (iv) Italians cracking nuts, (v) me, (vi) me, (vii) Lahey & I, (viii) Lahey again, (ix) Italians - Sausa and Lahey.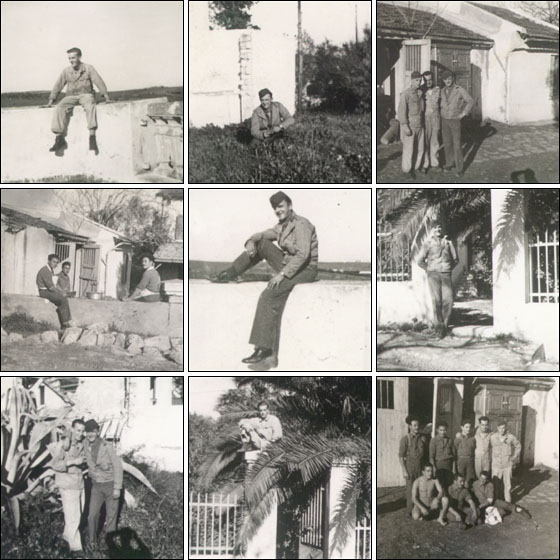 Three photos showing men and trucks of the unit dated April 12, 1944. The truck bumpers display the unit code PBS-591-E. (PBS is the abbreviation for Peninsular Base Section.)
| | | |
| --- | --- | --- |
| | | Wreckage of Axis planes, included for the interesting caption: Jerry's planes that got shot down. Maybe I should say one of the many. Don't I look like one of those aviators or do I? The other wreckage is from a seaplane but it makes a good shot I think. Only a touch of the damage but there will be more. - Ed Landry |
| | | |
| --- | --- | --- |
| | | 81st Station Hospital with a lineup of U.S. ambulances and a captured German Kubelwagen, probably in North Africa. |
A series of photos from North Africa:

Inspection, Africa

Inspection Company Area, Africa

Company area, Africa

In the middle is our baker, Africa

Before convoy we made, Africa

Sgt. Holeyfield, Cpt. Malik, Africa

Tunisia Africa

Prisoners, Africa, 374 Eddie Zabilski's ship

Plane hanger blown up, Africa

Enemy's plane graveyard, Africa
Redesignated 2759 Engineers, the unit supported the 7th Army in fighting in France and Germany. The following 9 photos are from one roll of film, but unfortunately none of the photos are labelled. The vehicles bear the unit bumper markings "7-A 2759-E" for 7th Army, 2759th Engineers.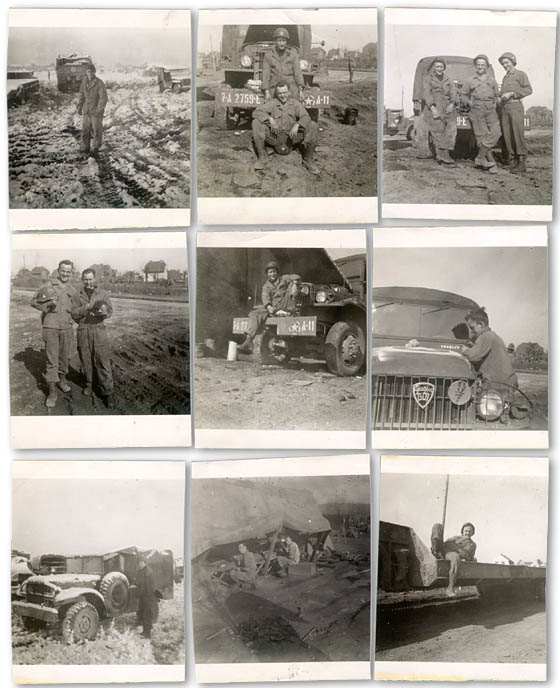 Heavy equipment of 2759th Engineers:
| | | |
| --- | --- | --- |
| | | The cost of war. A soldier of the unit in front of German war graves. |
Destroyed railyards in and around Aalen, Germany.