Examination of a 12.7-mm aircraft machine gun* which was taken from a Japanese Mitsubishi Type 100 bomber shot down in the Chebra area of Assam shows that while this weapon is somewhat similar to and evidently was designed on the lines of the U.S. Browning aircraft machine gun fixed mount, cal. .50, M1921, (accompanying sketches showing comparison). Interchangeability of parts between the Japanese and American weapons will result in malfunctions because of looseness in fitting.
The 12.7-mm Japanese aircraft machine gun is recoil-operated, assisted by a muzzle recoil booster. It is air cooled and belt fed. The gun examined was manufactured in October, 1942. The following general description applies to both Japanese models, 389 and 486.
| | | |
| --- | --- | --- |
| Weight (unmounted) | | 51 1/2 lbs |
| Method of feed | | belt |
| Overall length | | 49 in |
| Length of barrel | | 31 1/2 in |
| Number of grooves | | 7 |
| Rifling | | uniform lh twist |
The gun captured in Assam, Model 486, is belt-fed from the left while a similar gun, Model 389, also a captured weapon, is belt-fed from the right. There is non-interchangeability of feed from right to left.
Selective feed is not provided. Each gun is designed to feed from one side only, right or left. Ammunition found with the Model 486 gun indicates that a metallic disintegrating link belt is used. Very few parts are marked with the gun number.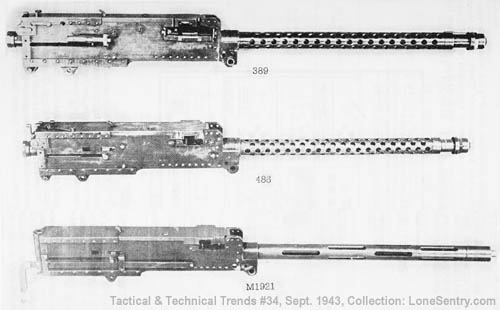 Comparison of Japanese Aircraft MG's with Browning M1921
The trigger assembly is so adjusted that the weapon may be fired from a closed bolt or open bolt. These "various" phases may be operated from remote control but change from one phase to another requires manual adjustment.
The Japanese weapons fire a smaller cartridge than the U.S. cal. .50 Browning. Therefore the receiver bolt and main assemblies are smaller and non-interchangeable.
*The Japanese 12.7-mm aircraft machine gun was first mentioned in Tactical and Technical Trends, No. 25, p. 4 in an article entitled "A New Type Japanese Medium Bomber."