"New Guns in the 'Insect' Series" from Recognition Journal
| | | | |
| --- | --- | --- | --- |
| | | The September 1944 issue of Recognition Journal printed the following article describing German self-propelled guns of the "Insect" series including the Brumbarr, Wespe, Hummel, and Hornisse (Nashorn). | |
---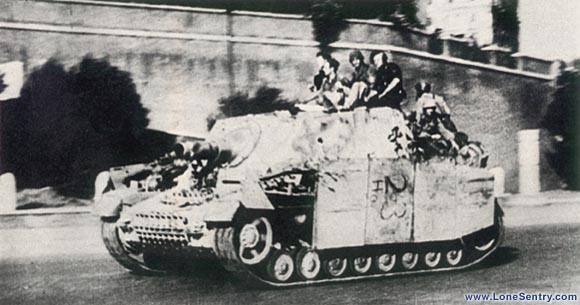 Grizzly Bear here has chassis which is recognizable as PzKw IV with armored skirting. Gun is heavy 150-mm. howitzer with short thick barrel set in heavily armored gun shield. Same four-sided crew compartment appears set back farther on Wasp and Bumble Bee (pp. 16, 17).
| | | |
| --- | --- | --- |
| | | In a desperate effort to cope with the mobility of the Red Army's advance the Germans have turned to self-propelled guns. In 1943 they were using several obsolete tank chassis to mount their 75-mm. anti-tank gun. At that time they introduced the 88-mm. self-propelled gun Ferdinand. Since then they have brought out a series of SP artillery mounted on the moderately fast PzKw IV medium tank chassis. This is the "Insect" series, so-called because each weapon, Bumble Bee and Hornet, has a nickname complete with stinger. In the same series, despite its name is the Grizzly Bear (above). Also in the Insect series are the Wasp on PzKw II chassis and the nameless vehicle below with a 128-mm. gun on a modified PzKw VI chassis. |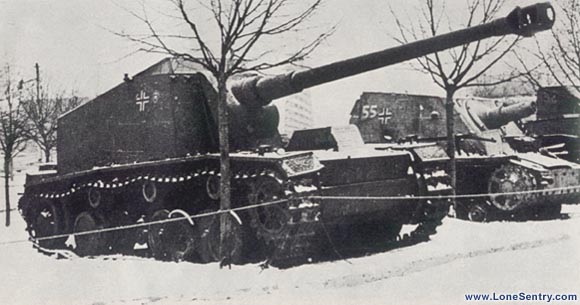 Huge 128-mm. gun displayed here is mounted on a modified PzKw VI chassis which has the usual overlapping bogie wheels and three return rollers. Gun mantlet swells from the front of rectangular gun shield with sloping top. Grizzly Bear in background is dwarfed by comparison.
---
| | | |
| --- | --- | --- |
| Wasp mounting a 105-mm. light field howitzer is the only one of the insect series that does not incorporate the PzKw IV chassis. Packing blocks around the gun buffer suggest this Wasp never had time to fire a shot. From it American troops in Italy carefully remove a booby trap. | | German tank repair unit recovers a bogged-down Wasp from mud. Buffer and recuperator of the 105-mm. howitzer project well beyond |
| | | |
| --- | --- | --- |
| The Bumble Bee is the Nazi nickname for the 150-mm. heavy field howitzer mounted on a modified PzKw IV tank chassis. The gun barrel projects flush with the nose. Superstructure is a four-sided sloping shield. | | Bumble Bees were part of Nazi coast defenses in southern Greece. Ventilators at side, near front of the gun housing, appear on most new Nazi SP guns. Poles near top of superstructure are flotation aids. |
---
| | | |
| --- | --- | --- |
| the gun shield. Tip of the barrel is flush with front of chassis. Modified PzKw II running gear has only three (rather than four) return rollers. | | Nazi Wasp is refueled on Russian front. 105-mm. howitzer is mounted at the rear of the chassis within an open boxlike shield. Fighting compart-ment is open at the top and rear and has high silhouette. The flat-sided superstructure of the Wasp resembles others of the Nazi Insect series. |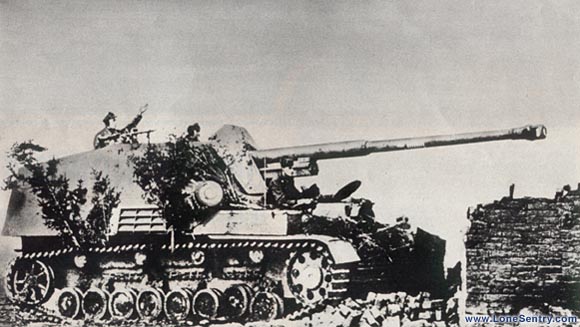 The Hornet is a new Nazi weapon which adapts the PzKw IV chassis as a self-propelled gun mount for the 88-mm. gun. The engine is forward in order to provide a larger space at the rear for the fighting compartment. The 21-ft. gun barrel extends well beyond the bow of the chassis. The gun shield is tall with sloping sides. The Hornet is more lightly armored and has almost twice the speed of the Ferdinand.
---
Notes:
The complete German designations of these panzers are:
"Grizzly Bear" - Sturmpanzer IV, other designations: SdKfz 166, Brummbär, StuG IV mit 15cm StuH43. Approximately 306 Sturmpanzer IV were produced from April 1943 to March 1945.
128-mm on modified PzKw VI - 12.8cm Selbstfahrlafette L/61, other designations: Panzerselbstfahrlafette V, VK3001(H), PzSfl V, Sturer Emil. Only 2 PzSfl V were produced from VK3001(H) components.
"Wasp" - Leichte Feldhaubitze 18/2 auf Fahrgestell Panzerkampfwagen II (Sf), other designations: SdKfz 124, Wespe. Approximately 676 Wespe were produced from February 1943 to July 1944.
"Bumble Bee" - 15cm Schwere Panzerhaubitze auf Geschützwagen III/IV (Sf), other designations: SdKfz 165, Hummel.
"Hornet" - 8.8cm PaK 43/1 (L/71) auf Geschützwagen III/IV (Sf), other designations: Hornisse, Nashorn. Approximately 494 Hornisse were produced from February 1943 to March 1945.

Back to Lone Sentry Home Page