Technical Manual, U.S. War Department, September 1, 1943
CARRIER, PERSONNEL, HALF-TRACK, M5
Technical Manuals: TM 9-707, TM 9-1707A, TM 9-1707B
Parts List: SNL G-147
Manufacturer: International Harvester Co.
Armament: One Gun, machine, cal. .30; one Gun, submachine, cal. .45, M1928A1; provision for 12 rifles, cal. .30, M1 or M1903.
Ammunition: 4,000 rounds, cal. .30; 540 rounds, cal. .45; 22 hand grenades; 24 Mines, AT w/ fuze, M1.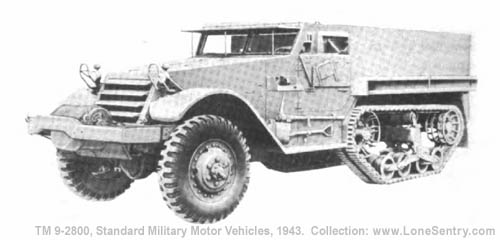 RA PD 66329
Classification: Standard
Purpose: To transport cargo and personnel in combat zone.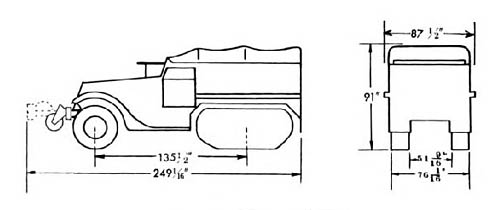 GENERAL DATA
Crew
13
Weight
Payload—w/ winch
(lb)
3,000
Payload—w/o winch
(lb)
3,500
Gross
(lb)
18,900
Shipping dimensions
w/winch (cu ft) 927
(sq ft) 146
w/o winch (cu ft) 901
(sq ft) 146
Tires—Combat
Ply 12
Size 9.00 x 20
Tread, center to center
Front
(in.)
66 1/2
Track width
(in.)
12 1/4
Ground clearance
(in.)
11 3/16
Ground pressure, tires
(lbs per sq in.)
Electrical system
(volts)
12
Capacities
Fuel, 80 octane gasoline
(gal)
60
Cooling system
(qt)
31
Crankcase (refill)
(qt)
8
Brakes
Hydraulic (Hydrovac)
Communication
Radio

PERFORMANCE
Maximum gradability
(percent)
60
Turning radius (ft)
Right 28
Left 30
Fording depth
(in.)
32
Maximum vertical obstacle vehicle will climb
(in.)
11
Angle of approach (deg)
With winch 36
Without winch 40
Angle of departure
(deg)
32
Fuel consumption, average conditions
(miles per gal)
3.6
Cruising range, average conditions
(miles)
220
Maximum allowable speed
(mph)
42
Number of speeds forward
4

ENGINE
Manufacturer
IHC
Model Red-450B
Type
In-line, 4 cycle
Number of cylinders
6
Displacement
(cu in.)
451
Governed speed
(rpm)
2,600
Brake horsepower
141
Ignition type
Battery

ADDITIONAL DATA
Winch capacity
(lb)
10,000

Back to Table of Contents