Last December the Journal published pictures of the principal German self-propelled guns. These and many others have since confronted the Allies in the U.S.S.R., Italy and France. Some of the guns that we captured in Tunisia have continued to appear in large numbers in Europe. They include the 75-mm. and 105-mm. assault guns on the PzKw III chassis, the 75-mm. on the Czech PzKw 38 chassis (right) and on the French Lorraine chassis (below).

Soviet troops first encountered the self-propelled 88-mm. gun, Ferdinand, in 1943; U.S. and British troops met it in Italy. How they dealt with the 72-ton monster is shown on page 14. Ferdinand remains the only German self-propelled gun that was made to order from start to finish -- an original design. The others have all been adaptations.

The newest German SP guns continue to be adaptations of present equipment. They illustrate a trend toward greater firepower on PzKw IV and VI chassis.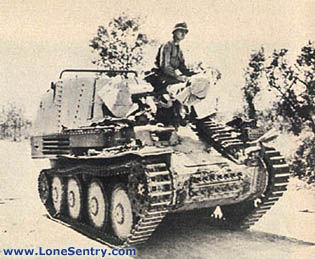 This captured Czech PzKw 38 chassis that mounts a 75-mm. is a favorite German self-propelled weapon. The gun is housed in a tall, open-topped, slant-sided shield well to the rear.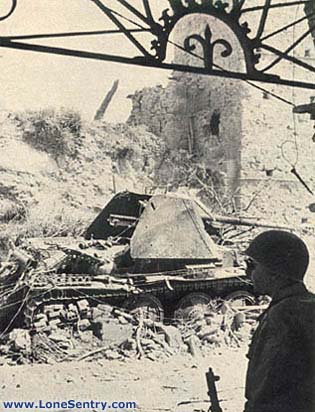 More familiar version of German 75-mm. gun on the Czech chassis has cone-shaped gun housing set well forward. Czech suspension has short wheel base of four large bogies.