Units, persons, and locations mentioned in the photos:

Units: 305th Engineer Combat Battalion, 80th Infantry Division, 1139th Engineer Combat Group

Persons: TBD

Locations: Metz, France; Gotha, Germany

Activated July 1942, the 80th Infantry Division departed for Europe in July 1944. The division reached Normandy on August 2, 1944 and landed on Utah Beach. In August, the division captured Evron and Ste. Suzanne, and captured Argentan August 20. The 80th was part of the Third Army during the dash across France through St. Mihiel, Chalons, and Commercy.

The division was on the defensive west of the Seille River for the next few months. In November, the 80th advancing through Delme Ridge, Faulquemont, and St. Avold to near Saarbrucken, when it was relieved. The division returned to combat in an attack on the Siegfried Line at Zweibrucken which was interrupted by the German Ardennes offensive. The division moved northward against the German salient, fighting at Luxembourg, Bastogne, Dahl, Goesdorf, and across the Clerf and Wiltz Rivers.

In February 1945, the division crossed the Our and Sauer Rivers at Wallendorf, moved through the Siegfried Line. The division reached Kaiserlautern, March 20, and crossed the Rhine near Mainz at end of March. In April, the Division advanced to Erfurt, Weimar, Jena, and Gera. On April 21, the division was relieved and moved to Nurnberg for occupation duty, and from there, on to Regensburg, and the Enns River, when the war in Europe ended. The division returned to the U. S. in January 1946 and was inactivated.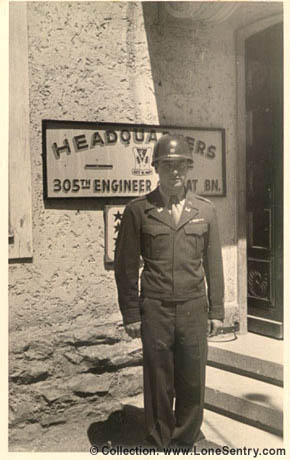 The photographer after V-E Day during occupation duty in front of the Headquarters, 305th Engineer Combat Bn.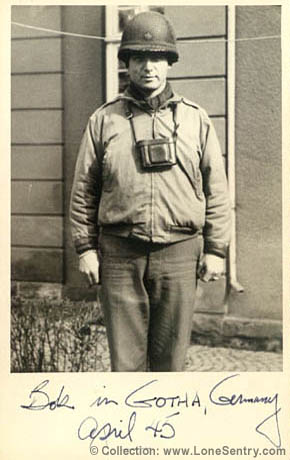 Another view of the photographer in Gotha, Germany, April 1945.